Department of Maritime Technology
To become a global specialist and work actively on the seas of the world, with the entire planet as your service area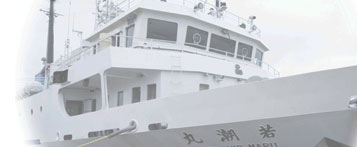 This program is a composite of the "Nautical Science Course" and "Marine Engineering Course". You will study the marine environment and ship-related technology, with the aim of becoming a navigator or an engineer capable of working actively all over the world. The program includes practical work experience on board a large-scale ship that sails overseas. Graduation takes place in September of the sixth year of the program.

The main content of study of each school year
Year 1

Acquiring knowledge of basic ship operation

 You will study a complete outline of the roles and importance of all technology relating to ships.

Mathematics
English
Physics
Boatmanship and Signaling
Data Processing

Year 2

A thorough study of the fundamentals for developing specialist skills 

 You will take courses that will provide you with the basics of the core subjects, in addition to receiving practical training.
Introduction to Nautical Science.

Positioning System
Electrical/ Electronic Engineering
Maritime English
Tool Handling Practice

Year 3

Further development of fundamentals

 You will acquire a basic knowledge of ship operation, systems, and safety, and learn about practical computer applications, as well as develop presentation skills.

Maritime Safety Engineering
Introductory Law
Data Processing
Internal Engine Combustion Engineering
Thermo-Dynamics

Year 4

Developing specialist expertise in ship operation and systems

You will engage in advanced study of meteorology, Radio Law, shipbuilding, marine transportation, and the operation and management of diesel and boiler-turbine plants.

Instrument and Control Engineering
Marine Meteorology
Shipping Business and Economics
Maritime Traffic
Steam Engineering

Year 5

Further advancement toward becoming a practical engineer

 By conducting graduation research relating to ship operation and systems and hands-on fabrication practice, you will enhance your knowledge and expertise as a practical engineer.

Graduation Research
Navigation Techniques
Industrial System Engineering
Heat Engineering
Materials of Machines

Year 6

Departing overseas for practical training on a ship

 You will receive practical training on large-scale training vessels, including sailing ships and diesel ships, and on large merchant ships operated by shipping companies as cadets. You will apply all the specialized knowledge acquired during the program with the aim of becoming a navigator or an engineer.