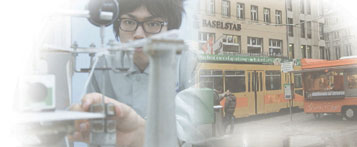 For graduates of the six academic programs, we offer a two-year advanced program aimed at cultivating workers with an even broader range of education as well as more highly specialized skills and knowledge. Students who complete this advanced program will be awarded a bachelor's degree.
The advanced program is characterized by the following:
| | |
| --- | --- |
| 1 | Including the year of graduation research completed by students in their earlier program, three years of continuous research experience. |
| 2 | Enhanced international communication skills, thanks to an international internship of approximately one month held over a long summer vacation period. |
| 3 | Joint research in partnership with a local industry. Students will identify a problem to tackle based on the needs of the industry in order to further develop their capacity to formulate solutions to real-world problems. |
| 4 | A strong emphasis on dialogue and discussion with teaching staff, thanks to small classes. |
| 5 | The opportunity for students to report their research findings and deliver a presentation in English at the "Asian Symposium on Ecotechnology", organized by the Institute of National Colleges of Technology, Japan. |
Program by specialty
ECOdesign Engineering Program
(The "ECO" in ECOdesign engineering means environmental consciousness.)
Engineers equipped with the fundamental knowledge of all fields of engineering and outstanding skills.
Engineers capable of utilizing technology that is environmentally beneficial (ecotechnology).
3.Global engineers possessed of the spirit to promote coexistence of humans and the natural world.
Control Information System Engineering Program
Individuals with the capability to design, build, and propose knowledge systems and ubiquitous environments using practical creative expertise.
Workers with a mastery of the architecture and technology of software, hardware, and networks, who can make real contributions to a technologically advanced society.
Electronic and computer system engineers who are capable of making value judgments based on an international perspective and proper ethics.
International Business Program
Individuals capable of analyzing the environments surrounding a company and the local community and creating a business model that is suitable to both the company and the local community.
Workers, equsipped with the knowledge and reasoning power necessary to identify and solve business-related problems, who are capable of pursuing systematic management.
Businesspersons who can work effectively in the Japan Sea Rim Zone utilizing a strong understanding of international management and ethics.
Maritime System Engineering Program
Individuals with the capacity to design and develop maritime-related systems that are environmentally friendly and support worker health and safety.
Workers who have acquired knowledge and skills related to the sea, ships, and distribution, and are capable of working effectively as part of both land and sea operations.
Maritime system engineers who possess global-oriented environmental awareness and ethics.