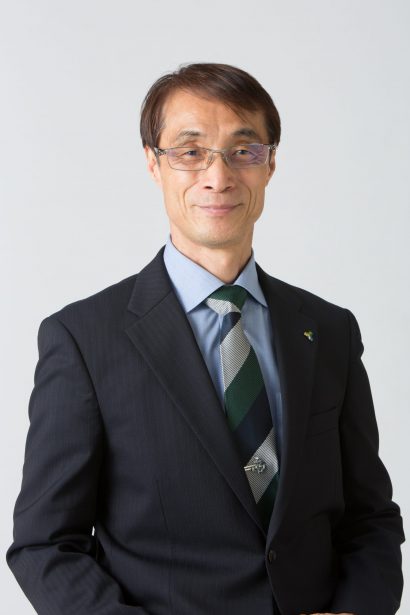 President KUNIEDA Yoshiaki
I would like to express my sincere gratitude to all of our stakeholders at the National Institute of Technology, Toyama College, namely the parents, members of our alumni association, and various organizations and businesses in Toyama Prefecture, for the continued cooperation and support you have shown toward our school's education and research.
Japan, a maritime state surrounded by the sea on every side, is known as one of the world's leading science-andtechnology-oriented nations. In addition, historically, Toyama, as a maritime prefecture, has served as an important relay port for the route of the kitamaebune ("northern-bound ships") that stretched from Hokkaido to Nagasaki and the Ryukyu Kingdom. With the twin pillars of the pharmaceutical and scientific industries that emerged out of this mercantile background, and the material processing industry that began with the use of energy from dams in the Tateyama Mountain Range, Toyama has become one of Japan's leading industrial prefectures. Continuing to train "personnel capable of creating innovation, playing an active role in the global world of today, and making a contribution to society" in
these maritime and scientific-technological fields represents an important task for guiding the future of both Japan and Toyama Prefecture.
Colleges of technology (KOSEN) provide education that covers a different span than either high schools or universities, lasting from enrolment at 15 years of age, to graduating from the core course at 20 years of age or completing an advanced course at 22 years of age. However, it is during this period, a time when we develop most as human beings over the course of our long lives, that consistent engagement by young people with science and engineering, which entails many steps, from mastering the basics to application, or else with advanced specialist education, is extremely important for training personnel in Japan's maritime and scientific‒technological fields. The National Institute of Technology, Toyama College is the only KOSEN in Japan to have six departments in the core course that span a wide range of educational fields; these include four engineering departments (the Department of Mechanical Engineering, the Department of Electrical and Control Systems Engineering, the Department of Applied Chemistry and Chemical Engineering, and the Department of Electronics and Computer Engineering), one liberal arts department (the Department of International Business), and the Department of Maritime Technology. In the 2-year advanced course that builds on the core course, we offer a consistent 7-year engagement with teaching to further the advancement of education and research. Approximately half of the graduates from our core course find jobs in the corporate sector, while the remaining half transfer into the third year of studies at national universities or go on to an advanced course at our own school. The employment and continuing education track record among our recent graduates far exceeds that of
not only other KOSEN, but also other educational institutions in the area, and as the foremost of the 51 KOSENs in Japan, our school has become one of the leading institutions of higher education, with a mission to train engineers, businesspeople, and maritime engineers who can play an active role in Japan and around the world.
National Institute of Technology, Toyama College is working even harder to leverage these characteristics to provide firm support for our students' initiatives and the formation of communication networks. Further, we have instructed our staff to be of one mind in working to enhance their teaching, related research, and social engagements that can provide our students with the ability to make their own way in society or else set them on the path toward their next step. I would therefore like to thank you all for your continued guidance and encouragement.